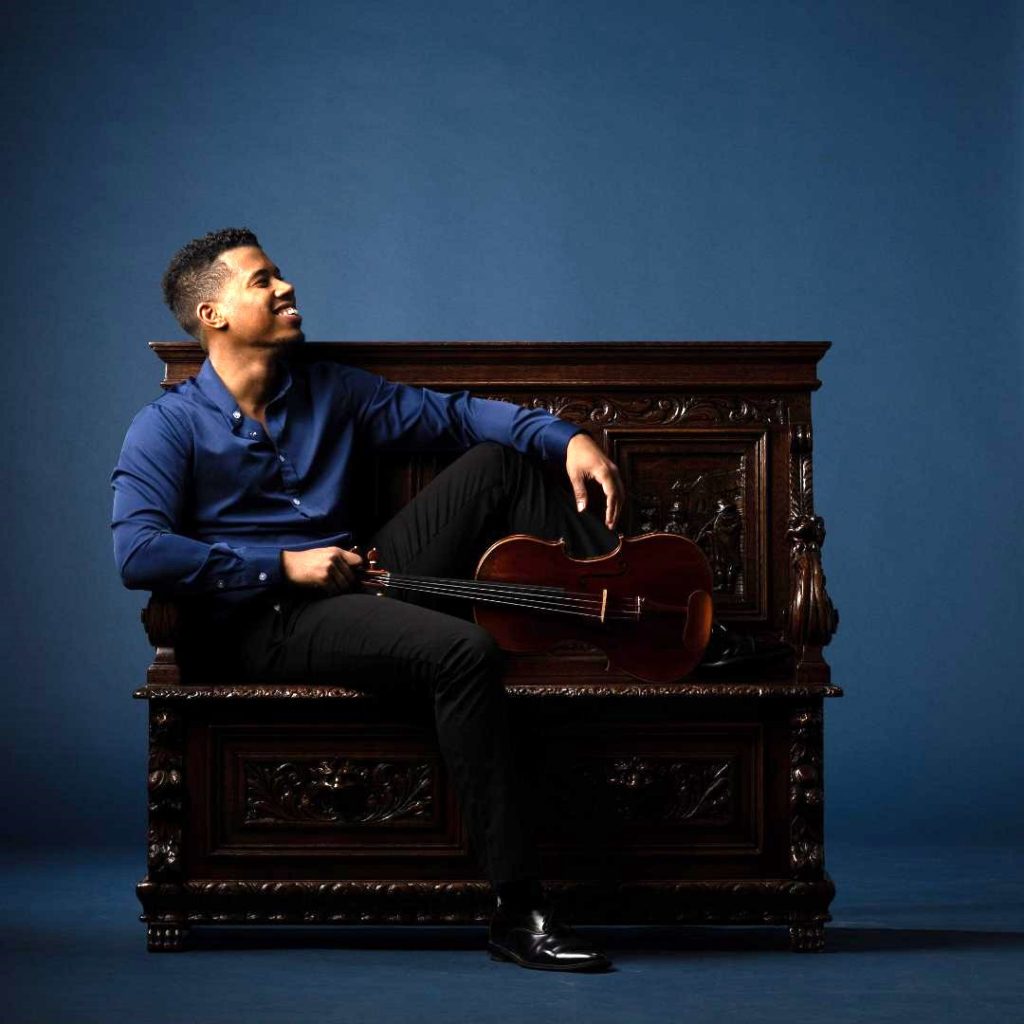 Caleb Georges, viola
Known for his robust sound and dynamic charisma, violist Caleb Georges has been making a mark in the chamber music scene. Coming from the island of St. Lucia, his musical journey began at the age of 7 on piano at the St. Lucia School of Music. It wasn't until the age of 13 did he pick up the viola. A few years later, he left his island home to pursue his studies in music in the US.
Caleb quickly gained recognition from solo and chamber competitions during his studies. In 2015 he won first prize at the 2015 Douglas Wayland Chamber Music Competition with his group, Max Trio. He was also a  first prize winner at the 2018 Dale & Nancy Briggs Chamber Music Competition as well as the 2019 WDAV Young Chamber Musicians Competition with his former group the Ivalas Quartet. Later that year he was featured live on the Violin Channel as well as Detroit public television when he won the third prize in the 2019 senior division Sphinx Competition, soloing and sharing the stage with the Sphinx Symphony Orchestra in Detroit's very own Orchestra Hall.
As a sought-after chamber player, Caleb has performed and collaborated with a number of ensembles across North America. He joined the Black and LatinX conductor-less string chamber ensemble, Sphinx Virtuosi, who toured across the US performing on historic stages such as Carnegie Hall and the Library of Congress. Caleb has also soloed with and collaborated with the Colour of Music Festival, artists such as the Calidore String Quartet, Danielle Belen, David Ying, Axel Strauss, Stéphane Lemelin and Patricia Terry-Ross, Rolston String Quartet, Axel Strauss, and Stéphane Lemelin. As violist of the Dior Quartet, he has performed and participated in various programs and concert series in Canada, USA, Netherlands, and the U.K. – including the Mostly Modern Music Festival, Banff String Quartet: Evolution in collaboration with Tippet Rise Art Center.
Caleb holds a BM in Viola performance from Bowling Green State University under Matthew Daline. A recipient of the Sphinx full tuition award, Caleb received his masters at the University of Michigan studying both Viola Performance and Chamber Music under the tutelage of Caroline Coade. Caleb attended Indiana University as a string quartet fellowship recipient studying with Mark Holloway and the award-winning Pacifica Quartet. He is currently a Rebanks Fellow and at residence with the Dior String Quartet at the Glenn Gould School of the Royal Conservatory.